Twitter users in India contribute to 55.12 per cent of anti-Muslim content on the microblogging site, a study tapping into Islamophobia online has revealed.
The study by the Islamic Council of Victoria (ICV) – the apex Muslim body in the Australian state of Victoria which represents an estimated 270,000 community members– found "a strong correlation between spikes in hate and newsworthy events related to Islam, particularly protests, terrorist attacks and eruptions of conflict in the Muslim world".
The study also found that "the response of politicians to current events connected to Islam can have a considerable impact on the prevalence of Islamophobia".
A large spike in Islamophobic tweets was observed on February 25, 2020, which the study links with "hateful remarks" made by leaders of India's ruling Bharatiya Janata Party (BJP) against Muslim protesters of the Citizenship Amendment Act.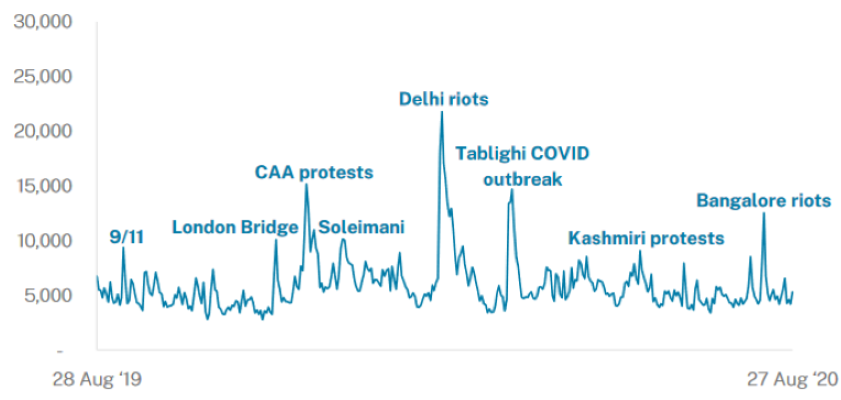 Daily frequency of Islamophobic tweets between August 28, 2019, and August 27, 2020. Source: Islamic Council of Victoria
The primary factor contributing to the rise in hateful content online in India was particularly found to be associated with the ruling party, as "there are an endless number of examples of how the BJP has actively normalised hatred towards Muslims".
Similarly, in the United States, "although Islamophobia has long been a problem", the study noted "that it was dramatically exacerbated by the racist, conspiratorial and inflammatory rhetoric employed by Donald Trump".
"Trump ranked as the third most frequently mentioned user in Islamophobic posts, a great many of which were focused on defending his ban on Muslim immigration, in addition to forwarding his theory that the Democrats were collaborating with 'the Islamists' to take over the West," the study also reported.
Additionally, anti-Muslim remarks made by other leaders such as former British prime minister Boris Johnson and French President Emmanuel Macron were also found to be associated with spikes in hateful content online.
With regard to the relationship between Islamophobia and terrorism, however, the study also noted that attacks in the West were more likely to lead to anti-Muslim hate than those committed elsewhere.
The geography of hate
Nearly 86 per cent of Islamophobic content between 2019 and 2021 has been found to have originated from three countries, namely India, the US and the UK.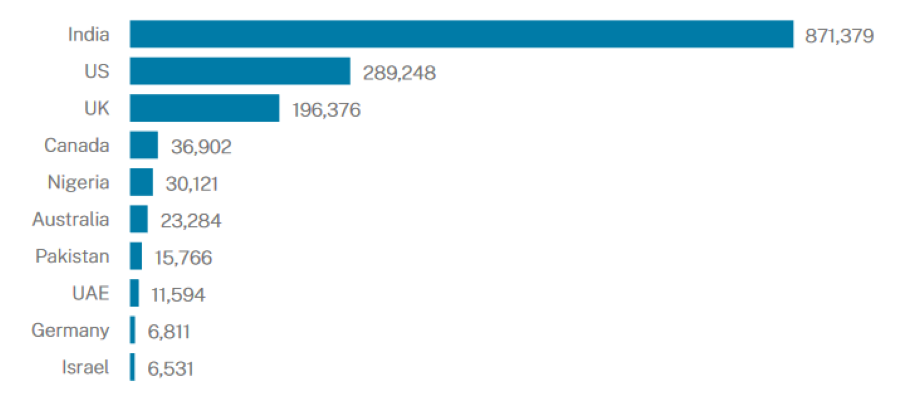 The 10 countries with the largest number of geolocated Islamophobic tweets. Source: Islamic Council of Victoria
The findings are alarming as the United Nations had last year urged the international community to "take all necessary measures" to combat Islamophobia, observing that the "institutional suspicion and fear of Muslims and those perceived to be Muslim has escalated to epidemic proportions".
Addressing the UN Human Rights Council in Geneva, UN Special Rapporteur on freedom of religion or belief, independent rights expert Ahmed Shaheed, had placed the blame on "numerous" states, regional and international bodies.
In a report to the Council, he had cited European surveys in 2018 and 2019 that showed that nearly four in 10 people held unfavourable views about Muslims. In 2017, 30 per cent of Americans viewed Muslims "in a negative light", the Special Rapporteur had added.
He said that nations had responded to security threats "by adopting measures which disproportionately target Muslims and define Muslims as both high risk and at risk of radicalisation" and in states where Muslims are in the minority, they are frequently targeted based on stereotypical 'Muslim' characteristics, such as names, skin colour and clothing, including religious attire, such as headscarves.
These measures include restricting Muslims from living according to their belief system, the securitisation of religious communities, limits on access to citizenship, socioeconomic exclusion and pervasive stigmatisation of Muslim communities "by mainstream media, powerful politicians, influencers of popular culture and in academic discourse".
Worryingly, TRT World reported, this appeal has fallen largely on deaf ears, particularly within the executive boardrooms of social media companies, which have done little or nothing to remove anti-Muslim content from their platforms.
It may also be noted here that as per the ICV study, of the 3,759,180 Islamophobic posts reported, at least 85 per cent remained online even after a year had passed.